One Forever Faith

Jesus Christ, "the way, the truth, and the life,"
exemplifies perfect love and absolute morality in action.
His ministry, excruciating death on the cross, and miraculous
resurrection offers the prescription that replaces the sin virus,
with "abundant" living today and a forever life tomorrow.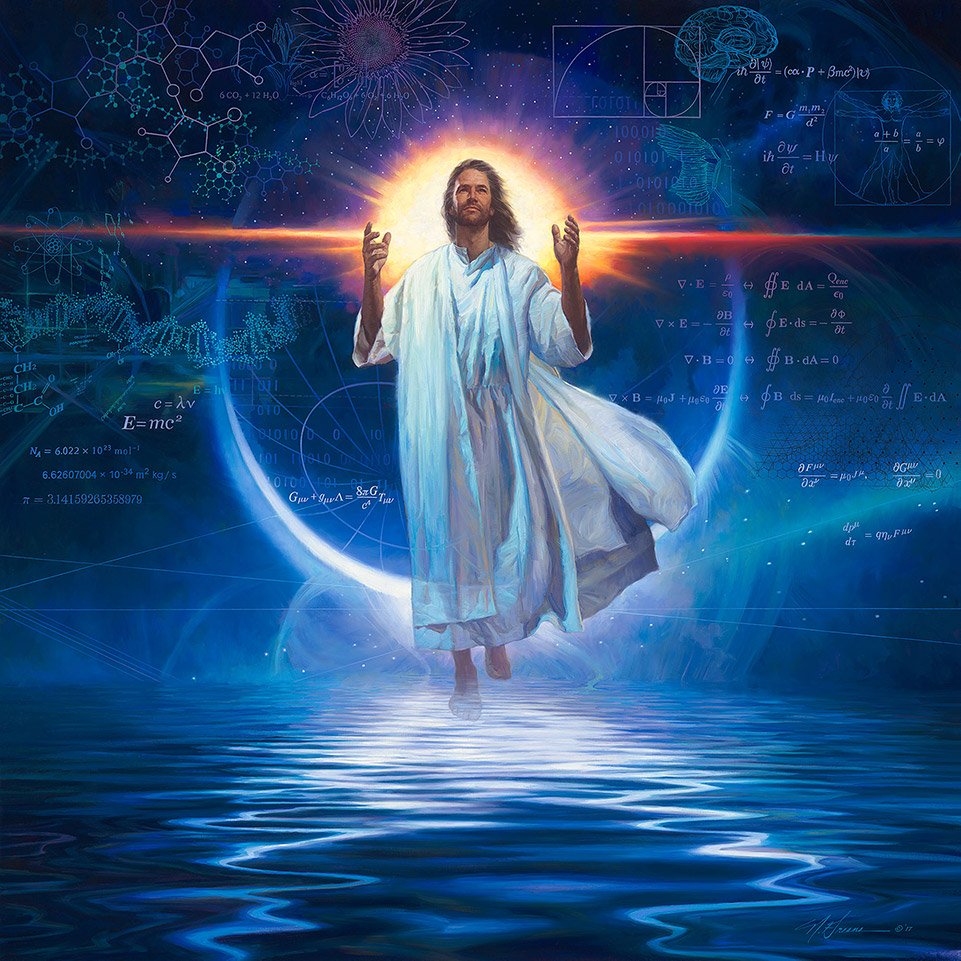 "Christ, the Source of Life" by Nathan Greene, ©, All Rights Reserved, Used by Permission
Experiencing a New Identity
"God, who is rich in mercy, made us alive in Christ,
even when we were dead in transgressions—
it is by grace you have been saved."
Ephesians 2:4
The Apostle Paul painted a bleak picture of an end-time world, shrouded in a deteriorating cultural environment.
"But mark this: there will be terrible troubles in the last days. People will be lovers of themselves, lovers of money, boastful, proud, abusive, disobedient to their parents, ungrateful, unholy, without love, unforgiving, slanderous, without self-control, brutal, not lovers of the good, treacherous, rash, conceited, lovers of pleasure rather than lovers of God having a form of godliness but denying its power." II TIMOTHY 3:1-5
In the midst of a corrupted culture during "terrible times," a "born again" Christian, powered by God's Holy Spirit, can inspire hope by living the gospel, using words if necessary. ISAIAH 1:13-15 Our Creator welcomes the opportunity to transform the most broken-hearted, failed human life into a new identity of victorious goodness. When invited, God will "create a clean heart and renew a right spirit within" even the most vile, debauched human being.
"Love, joy, peace, patience, kindness, goodness, faithfulness, gentleness and self-control." GALATIANS 5:22, 23 "Clothe yourselves with compassion, kindness, humility, gentleness, and patience…Forgive whatever grievances you may have against one another. Forgive as the Lord forgave you." COLOSSIANS 3:12,13
The Christian experiences a radical identity transformation that intuitively displays a lifestyle leading to "abundant" living with personal "peace that passes all understanding."
The simple beauty of this new-person ID does not result from superficial religious ritual. A man-made, cosmetic form of "godliness" doesn't do it. Heaven's gates will open wide only if the Holy Spirit guides the life and shapes the storyline. Isaiah underscores God's reaction to pro forma religion.
"Stop bringing meaningless offerings!
Your incense is detestable to me.
New Moons, Sabbaths, and convocations—
I cannot bear your evil assemblies.
"Your New Moon festivals and appointed feasts,
My soul hates.
They have been a burden to me;
I am weary of bearing them.
"When you spread out your hands in prayer,
I will hide my eyes from you;
Even if you offer many prayers,
I will not listen.
Your hands are full of blood,
Wash and make yourselves clean."
ISAIAH 1:13-15

Living Christianity offers a highly personal relationship experience with God. All it takes is the seed of faith planted in your heart, the anguish of genuine repentance, and taking that first step following the footprints carved by Jesus. What follows is a lifetime to grow in grace.
As long as the least fragment of our "born again" future life continues walking in the footsteps of Jesus, any shortfall in word or deed will be covered by Christ's robe of perfect righteousness. It's not the occasional good or bad, word or deed that determines destiny, but the direction taken. Heaven's gates remain open wide, 24/7. Assurance of entry into God's everlasting kingdom is absolute.
"If anyone is in Christ, he is a new creation, the old has gone, the new has come." II CORINTHIANS 5:17 "Then the King will say to those on His right, 'Come, you who are blessed by my Father, take your inheritance, the kingdom prepared for you since the creation of the world.'" MATTHEW 25:34 
"This calls for patient endurance on the part of the saints who obey God's commandments and remain faithful to Jesus." REVELATION 14:12
Warren LeRoi Johns
GOD LEADS HIS DEAR CHILDREN ALONG
COMPOSER, GEORGE A. YOUNG, 1903
1. In shady, green pastures, so rich and so sweet,
God leads His dear children along;
Where the water's cool flow bathes the weary one's feet,
God leads His dear children along.
Refrain:
Some through the waters, some through the flood,
Some through the fire, but all through the blood;
Some through great sorrow, but God gives a song,
In the night season and all the day long.
2. Sometimes on the mount where the sun shines so bright,
God leads His dear children along;
Sometimes in the valley, in darkest of night,
God leads His dear children along.
3. Though sorrows befall us and evils oppose,
God leads His dear children along;
Through grace we can conquer, defeat all our foes,
God leads His dear children along.
4. Away from the mire, and away from the clay,
God leads His dear children along;
Away up in glory, eternity's day,
God leads His dear children along.
"Love is patient, love is kind.
It does not envy, it does not boast, it is not proud.
It is not rude, it is not self-seeking.
It is not easily angered, it keeps no record of wrongs.
"Love does not delight with evil but rejoices with the truth.
It always protects, always trusts, always hopes,
always perseveres.
"Love never fails…
And now, these three remain: faith, hope, and love.
But the greatest of these is love."
I Corinthians 13:4, 5, 13