Dateline Sunday USA
Dateline: Sunday, U.S.A.

The Story of Three and a Half Centuries of Sunday-law Battles in America
Johns, Warren LeRoi, JD, esq.
Sunday-law contention is as old as Emperor Constantine of Rome and as new as the freeway and the supermarket. The law once consigned to the whipping post a Connecticut man for "scandalously kissing" his wife on Sunday, and later nearly caused he arrest of George Washington for riding his horse on that day. Sunday-law rhubarbs have involved the game of baseball, the Crown Kosher Super Market, the Columbian Exposition in Chicago, San Francisco laundryman Soon Hing, the United States Supreme Court, Monsignor Lally, Two Guys from Harrison, and the Lord's Day League of New England. In one way of another such laws have affected almost every American citizen.
Dateline: Sunday, U.S.A. needed to be written, and now Attorney Warren Johns has written it. Here is the story – humorous, bizarre, tragic, but always fascinating – of man's intolerance of his fellowmen, as for centuries he has harnessed the power of the state to enforce a religious observance. Here, surely, is one of the paradoxes of American history: A nation "conceived in liberty," protected by an amendment guaranteeing separation of church and state, has never quite managed to unshackle itself from blue laws received as a legacy from colonial clergy and magistrates.
Author Johns feigns no impartiality in discussing Sunday laws – he opposes them – but he has attempted to be fair in his handling of the facts. Students of American history, sociology, law, and religion will profit greatly from his readable analysis of Sunday laws in America.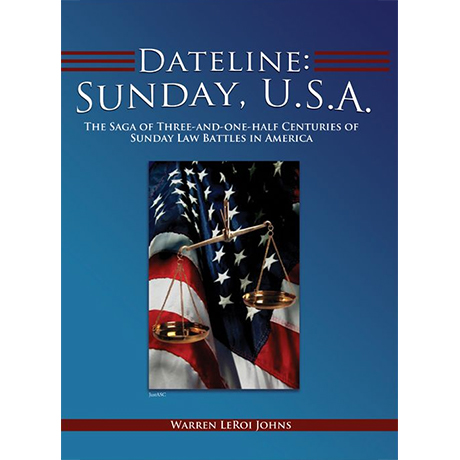 Author: Warren LeRoi Johns
Hardcover: 245 pages
Publisher: GenesisFile.com; Publication: 2nd edition. (2012)
Language: English
ASIN: B007W5Y412
Available Used Starting: $12.95*