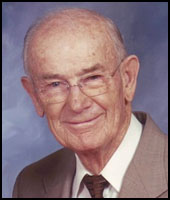 Robert H. Brown, Ph.D.
Physicist
Union College, Lincoln, Nebraska (1940)
Bachelor of Arts
University of Nebraska (1942)
Master of Science
University of Washington (1950)
Ph.D. – Physics
Walla Walla College in College Place, Washington
Professor of Physics (1954 – 1970)
Vice President of Administration (1961-1970)
Union College, Lincoln, Nebraska (1970-1973)
President, Professor
GeoScience Research Institute, Berrien Springs, MI (1973-1980)
Director
Loma Linda (California) University (1980-1988)
Professor of Physics (retired)
Solar System
Robert H. Brown letter to Warren L. Johns, November 26, 2003.
The implication is clear: several thousand years before the present, there was a Time Zero moment God's command introduced life, together with a global ecosystem that miraculously transformed the face of formless matter into the Blue Planet, throbbing with young plant and animal life!
Physicist Robert H. Brown interprets the Bible account to mean what it says: a lifeless mass, inundated with water, cloaked in a blanket of darkness. He describes the possibility of "radioactive decay over hundreds of millions of years prior to Creation Week" as feasible, taking Genesis 1:2 to mean what it says.
"New Testament writers make it absolutely clear that all components of the physical universe were created by God, but do not specify a time frame. The only necessary basic time specifications are provided in the first 11 chapters of Genesis. And those specifications apply only to living organisms and the environment that supports them.
"Nothing is said in the Bible about time in connection with the creation of water or the creation of the inorganic material that was raised above surface water on the third day of Creation Week—these components are simply stated as being 'there' at the beginning of Creation Week."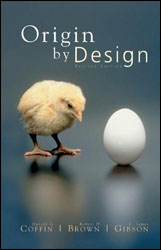 Origin by Design
Authors: Harold G. Coffin, Robert H. Brown, R. James Gibson
Hardcover: 464 pages
Publisher: Review & Herald Publishing (May 2005)
Language: English
ISBN-10: 082801776X
ISBN-13: 978-0828017763
List Price: $29.99